About VAZUM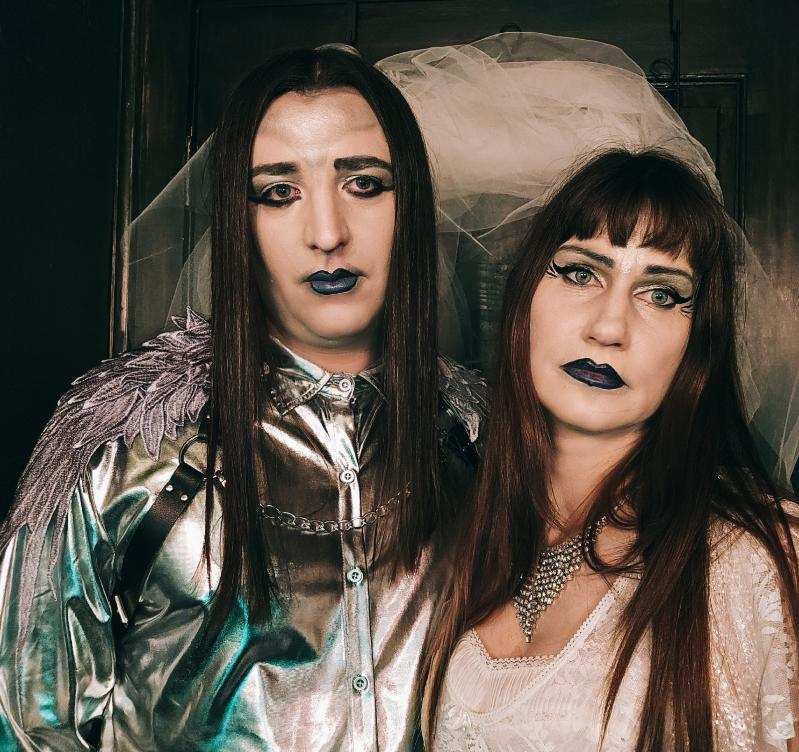 Releasing January 5th 2024, Blush is the new shimmery single from deathgaze duo VAZUM. With a driving beat and bass line, Emily Sturm's elegant vocals glimmer over the music. Blush laments the dreary days of Winter, with a chorus welcoming reprise of the first warm rays of Spring. Blush is the first single from VAZUM's forthcoming album Western Violence. VAZUM is playing select live dates in the Southern US to promote the release of Blush in January 2024.
VAZUM is a deathgaze duo from Detroit, MI. Comprised of Zach Pliska (vocals/guitar/drums) and Emily Sturm (vocals/bass) VAZUM create a haunting and original sound combining elements of deathrock, post-punk and shoegaze. Since forming in 2017, VAZUM have released numerous albums and music videos which the duo produce from their Light Echo Studio.
Zach Pliska began as a drummer playing in numerous Detroit bands before becoming a bandleader. He studied music in college which gave a different perspective to songwriting and performing. Taking the name from a genus of predatory sea snails called Vasum, Zach launched VAZUM in 2017 with the release of the single Fall Guy. He then recorded three albums VAZUM (2018), Void (2018) and Variant (2019), while enlisting the help of a few friends to form a band and play shows. In 2019 Zach met Emily Sturm at Leland City Club in Detroit and the two connected over a shared passion for music and art.
Emily Sturm has a background in visual arts, costume and jewelry making. She owned and operated her business Raven Eve Gothic Jewelry from 1999 - 2019. Emily developed a strong following with her work being featured on The View and worn by Whoopi Goldberg, Courtney Love and Kat Von D. Since joining VAZUM Emily has contributed an uncompromising musical and aesthetic direction.
As a duo Zach and Emily have released four albums, an EP and multiple singles. 2020 marked the birth of their deathgaze sound with the album Vampyre Villa, garnering attention from underground radio shows, DJ's and blogs. The pair then released a Halloween themed album, Rated V which mixed doomgaze and stoner-rock songs with ambient soundscapes and textures. Later that year they released Vazumnacht, a Krampus inspired EP transforming three Christmas carols into gothic industrial dirges.
Summer 2021 brought the album V+ immersed in layered guitars, lush vocals and haunting songs about the occult. V+ further solidified VAZUM as a unique and powerful band with a new take on post-punk and gothic rock. That Fall VAZUM unveiled their electronic Halloween album, Unrated V which explored darkwave, industrial and ambient tracks inspired by classic horror tales. In 2022 VAZUM released four singles; Thief, Angel, Double Stellium and Precious Ones while touring regionally in the US. VAZUM began 2023 with the release of thier single Night Shade. On March 31st they released their album V-, a collection of greatest hits the duo re-recorded with the punk rock ethos of their live performances. In April VAZUM embarked on a 10 date tour in the Midwest and Southern United States. VAZUM are releasing their next single Blush on January 5th 2024 accompanied by select shows in the Southern US in January.